Live Rates
The Live Rates shipping method calculates live shipping rates from multiple carriers with Shippo. It's a great option for vendors who want to provide accurate, real-time shipping quotes to their customers at checkout.
Store Level Settings
The Live Rates method has a number of store level settings, depicted in the screenshot below.
The settings are:
Live Rates
Controls whether the Live Rates method is enabled or not.
Packing Strategy
In order to provide accurate shipping quotes, the Live Rates method must pack the vendor's items into one or more boxes. This option allows the vendor to control how their items are packed. There are two choices:
Pack items individually – Pack each item separately into the smallest box that can fit it.
Pack items together – Pack items into one or more boxes using the BoxPacker algorithm.
Pack items together will generally yield the most accurate shipping rates, but Pack items individually may be more appropriate for certain vendors.
Rate Adjustment
This gives vendors the ability to adjust carrier returned shipping rates up or down by a fixed amount or percentage. This can be used, for instance, to account for the cost of packing materials.
Enabled Carriers
The options in this section allow vendors to control the carriers and shipping services used to calculate shipping rates for their products. Carriers can be enabled or disabled using the checkboxes in the "Enabled carriers" table, and the enabled services and boxes for each carrier can be configured by clicking the "Pencil" icons in the table.
The carriers that appear in this list are populated from the connected Shippo account, either the admin's account if "Use Admin Account for Calculations" is enabled, or the vendor's account otherwise.
Custom Boxes
In order to pack the vendor's items at checkout, Live Rates needs to know the boxes the vendor will be using for shipping. If the vendor has not enabled any carrier boxes, they should add their own boxes here.
To add a new box, simply click Add Box. This will open a modal where you can enter the custom box's name and dimensions. Please note that you should enter the box's outer dimensions. The inner dimensions will be estimated automatically.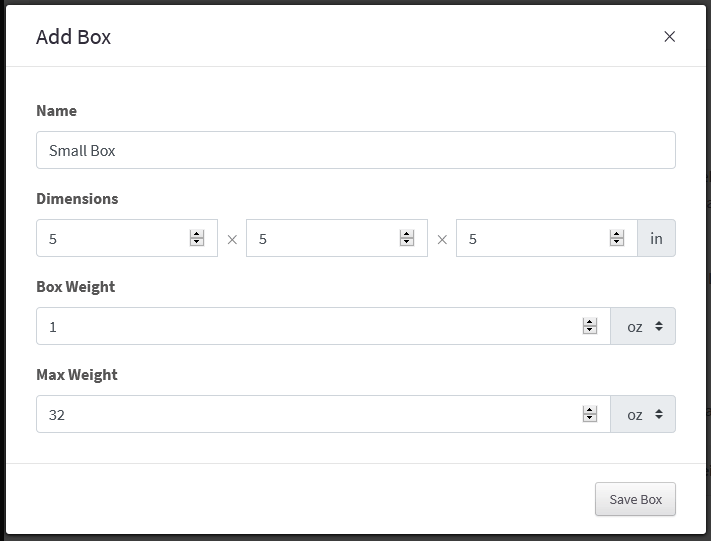 To edit or delete a box, click the pencil icon or trash icon, respectively, next to that box in the Boxes table.