Printing Labels
When the Label Printing feature is enabled vendors can print shipping labels in multiple formats straight from the vendor dashboard. Here's how that process works:
Go to the Orders page in the vendor dashboard. Select your order. You will now see a list of shipping labels similar to this: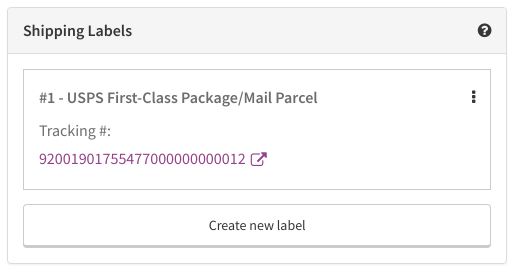 To print a shipping label for your order:

Click Create new label
If this is your first time attempting to print a label you will be prompted to create or connect a Shippo account. Click "Create or connect account" and follow the on-screen instructions to complete this process.
Enter the full address you're shipping from, if it's the first time printing a shipping label.
Verify the destination address.
Enter the weight and dimensions of the box you're shipping. If you're using the Live Rates shipping method you can either select from one of the boxes that was computed at checkout or enter a custom box.
Optionally add extras like shipping insurance.
Select the desired shipping service/rate.
Select label format (optional).
Buy & Print

After clicking Buy & Print, label(s) are automatically opened in a print dialog.
Some browsers, like Firefox, don't support automatic label printing. If you're using one of these browsers, the label(s) will open in a new tab instead.
The Shipping Labels box will display the label(s) you purchased, and contains the tracking number for your shipment. The tracking number(s) will be included in the email sent to your customer when the order is marked "completed."

You can also reprint your label or request a refund, if necessary. Click the three ellipsis menu for the label to reveal these options.